Looking for original artwork and art prints? Head over to the GALLERY & click on "Purchase Originals" or "Purchase Prints" to buy original works of art as well as reproductions, right on the site!
---
Welcome to the Adesina Store! Here you will find officially endorsed Adesina merchandise, such as Adesina tee shirts, phone cases & bags, adorned with your favorite pieces by the artist herself.
Adesina Tees
Dreaming of the Future Drawing + Quote Tank Top »
Inspired by personal life changes, Adesina created this adorable tee out of her pencil drawing of a little girl & a quote from Victor Hugo: "There is nothing like a dream to create the future."
Now you can take this inspiration with you wherever you go – or better yet, gift it to a loved one who would appreciate this message right now – a new graduate, an aspiring entrepreneur, or anyone going through major life changes, who is dreaming of future successes.
Click the link here to get one for that special someone (or for yourself)!
(Please note, the printed image will come out looking as it appears in the photo here, even though on the Zazzle web site, the print appears much darker).
---
Adesina Phone Cases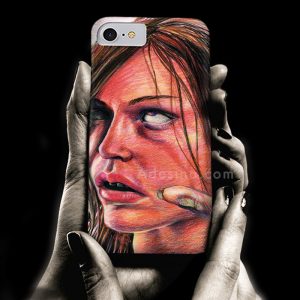 Protect your smartphone and tell the world "Uh, hello? I'm on the phone!" with Adesina's classic 2001 drawing, "Wasted." No more rude interruptions with this bored young woman making your disinterest clear. Available for both iPhone and Samsung, here »!
(Note: actual phone case does NOT have the Adesina.com watermark)
Or, if you prefer a print, head over this way »
---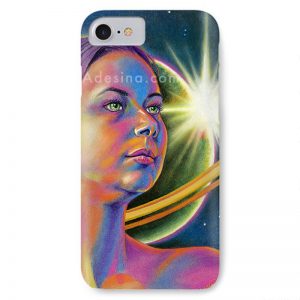 Are you a dreamer? Know someone who is? Based on Adesina's hopeful pastel drawing, "Planetary Princess," you can help your loved one stay inspired and keep their smartphone safe from scratches, with a case that is both beautiful and functional. Available for both iPhone and Samsung
here »
(Note: actual phone case does NOT have the Adesina.com watermark)
---
Adesina Bags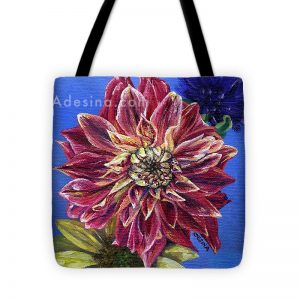 Keep it Springtime all year round, and carry your belongings in style, with Adesina's brightly colored "Dahlia's Desire" Tote 
here »
(Note: actual bag does NOT have the Adesina.com watermark)
---
Adesina Post Cards
Adesina painted this piece at just 16 years old, and it remains one of her favorites to this day!
Since it's one of her first paintings, the original is not for sale, which is why she decided to create post cards, not only to share the image with as many people as possible, but also to benefit the World Wildlife Fund.
Each one is $5 including shipping; get yours here!
---
I Have a Dream 2013 was an ambitious and rewarding project that brought together over 50 people from all over the world, while honoring an icon in the civil rights movement, the man whose dream changed the world: Dr. Martin Luther King Jr.
The original painting, after touring various gallery shows, is finally available for sale (please inquire here), but now you can also get a postcard version of your very own!
They are only $5 each including shipping – get a few & honor the people in your life who are making a difference! Get Postcards Here